Looking for a toasty cup of delicious coffee to comfort you through Ottawa's cold winter season?
Our National Capital Region has a surprisingly robust coffee scene, and it will not disappoint.
Let's face it though – we're not just looking for coffee. We're looking to sit in a cozy spot with cool vibes and friendly baristas. We're not only on the hunt for a great pour, we want the best experience.
Lucky for you, we've done the work. We've found eleven hip Ottawa coffee shops that will satisfy all those cozy-café cravings:
Oat Couture Oatmeal Café
Photo from https://apt613.ca/ottawa-cafe-crawl-oat-couture/
1154 Bank St, Ottawa
In the heart of Old Ottawa South sits Oat Couture Oatmeal Café, an oatmeal (you heard that right – oatmeal) café that serves bright, delicious bowls of fashionable oatmeal. Bowls range from sweet to savoury –the s'mores-like Campfire bowl is crowned with toasted marshmallow, vegan chocolate chips, graham cracker, and raspberry coulis. Delicious.
Enduringly popular for its chic décor, Oat Couture offers white wicker basket chairs that hang from the rafters. Lean back against the comfy pillows and watch Bank Street traffic rush by as you sip your yummy oat milk latte – you couldn't ask for more.
Speaking of oat milk lattes, what pairs better with oatmeal than a steaming cup of coffee? Oat Couture boasts a rigorous coffee program, serving De Mello drip coffee, and any espresso-based drink you can name. The baristas here are Oat Couture's pride and joy – Charlotte and Tully placed first and second in Ottawa's 2018 Latte Art Slam. Ask for one of them and they'll be sure to pour you something stunning.
Our personal favourite? The café sells Minor Figures Oat Milk – the best you'll find around – which you can even order by the case to take home with you.
Little Victories Coffee
Photo from https://slayerespresso.com/?attachment_id=9481
801 Bank St, Ottawa
In the heart of the Glebe, Little Victories is the gem in Ottawa's caffeinated crown – a superlative spot noted for its hip minimalist interior and perfectly poured coffee. The beans are roasted in a garden shed in Carlingwood by owner/operators Andrew Basset and Jeremie Thompson.
Basset and Thompson have made it their mission to master the art of toasting and pouring. Quickly, they began to generate pop up shops all over Ottawa, finally opening their first café on Bank Street in 2016.
Since then, Little Victories has spearheaded the shift that artisanal coffee culture has made in the city. Little Victories proudly offers espresso-based drinks with swans, fish, love hearts, stacks, and turtles – yes, turtles.
True to its name, Little Victories Coffee has enjoyed a string of triumphs, from its first home on Bank Street to its soon-to-be second on Wellington Ave. (opening Feb. 3). The owners are serious about coffee, and you can tell – they'll serve you a terrific pour.
CC's Corner Coffee and Curios
Photo from https://katiesplate.com/2015/07/17/coffees-curios-at-ccs-corner/
6 Lennox St, Richmond
Located in Richmond, well off the beaten path, lies CC's Corner Coffee & Curios. This quirky café is absolutely worth the trip, serving drip coffee, espresso-based drinks, and pour-over. Feeling hungry? CC's Corner Coffee & Curios serves a wide range of baked goods from local bakery partners such as Stittsville's Sweet Room Bakery, Kemptville's Crusty Baker, and Wellington's SuzieQ Doughnuts.
Not only will you have your caffeine cravings quenched, you'll have an unforgettable experience. CC's Corner Coffee & Curios is home to that which is, well, curious. Owner and operator Cameron Kallos has been collecting curios for years now, and decorates the shop's walls with the loot. His collection features a vintage Electroshock Therapy Kit from the 1940s. Lucky for us, it's out of commission, but adds great entertainment value.
Once you've finished your coffee, you'll find yourself lingering to sip the last of the visual feast offered by CC's Corner Coffee & Curios.
Corner Peach
Photo from https://ottawamagazine.com/eating-and-drinking/city-bites/corner-peach-a-dream-come-true-for-restaurant-savvy-duo/
802 Somerset, Ottawa
On the corner of Somerset and Booth you'll find one of Ottawa's most attractive cafés: Corner Peach.
Upon arrival you'll step into a simple and warmly decorated room. Natural light pours through large windows in front. Lined with vintage tin, the lofty ceiling gives an open and spacious feel. The bar sits against a distressed brick wall lined with shelves of cascading green plants.
The café opened just shy of a year ago with co-owners and operators Caroline Murphy and Emma Campbell at the helm. Between Murphy's chef experience and Campbell's service management smarts, they have opened the perfect café. Thanks to Murphy, every item on the menu is delicious, and thanks to Campbell, the environment offers the perfect blend of hip and cozy.
Coffee on bar, baked goods on display, and menus on rotation make this place the perfect destination for a study session or catch-up with friends.
Black Squirrel Books & Espresso Bar
Photo from: https://www.facebook.com/pg/blacksquirrelbooks/photos/?ref=page_internal
1073 Bank St, Ottawa
Within walking distance of Lansdowne is Black Squirrel Books, a used bookstore that has become a mecca for Ottawa's students, caffeine-deprived parents, and assorted bookworms.
This place is mighty, and its strength comes largely from its bustling coffee bar.
Loyal to local business partners, Black Squirrel Books sells locally sourced baked goods. Its espresso beans are roasted locally as well, boasting Blue Barn (Wakefield, QC), Cloud Forest (Ottawa, ON), and Glebe neighbour Little Victories (Ottawa, ON).
Grab a brew, a bite, and a book at this Old Ottawa South gem.
Arlington Five
Photo from: https://www.instagram.com/p/B1v8m-ll2aa/
5 Arlington St, Ottawa
As effortlessly hip as they come, Arlington Five is the Centertown coffee bar of your dreams – staff are lovely, the sandwiches are creative, and the soups are cozy on a rainy day. Partnered with a perfect espresso (Ottawa's own Happy Goat), the place is a guaranteed cure for those February blues.
Found just a step away from Bank Street in Centertown, Arlington Five is named for its address. It's on Arlington Street. At number five.
Perhaps it's the name that attracts the crowds, or perhaps it's the tantalizingly delicious nanaimo bars and cool vibes. Perhaps it's both.
Planet Coffee
Photo from: https://www.facebook.com/pg/PlanetCoffeeOttawa/photos/?tab=album&album_id=907747655937480
24a York St, Ottawa
"Locally sourced, crafted with love, served with care."
This is Planet Coffee's anthem, and it resonates. Planet Coffee was opened by a couple of pals who knew nothing about coffee except that they loved it. Twenty-five years in business and there's no question they have mastered the art of a perfect pour.
Planet Coffee serves Fluid coffee, a fair-trade roast found in Honduras that has committed to roasting the most environmentally friendly bean! Fluid is celebrated as "solar roasted coffee" – the bean processing plant uses renewable resources like solar and wind power.
Planet Coffee shows customers they care – about their guests, the planet, and the perfect cup of hot coffee.
Art House Café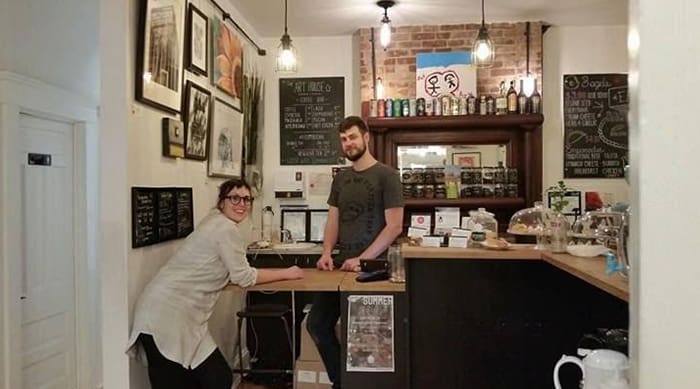 Photo from: https://apt613.ca/art-house-cafe-2/
555 Somerset St W, Ottawa
If you're looking for vibes, look no further, because the Art House Café has got them in abundance, and they're yours for the enjoying.
This café can be found in a huge, three-story Victorian House on Somerset. Owners and operators Joe Beaton and Geneviève Bétournay are like-minded – both determined to serve great coffee in a beautiful, art-friendly space.
This desire is reflected in their commitment to hosting weekly community events. Examples include open mic events, knitting groups, and watercolour paint nights.
Art House Café serves coffee, baked goods, and chill times. The walls are lined with local artists' work, making the space not just pleasing for your tummy, but also for your eyes.
The art rotates monthly, which means your experience feels fresh every time. Interested in showing off something you've done this year? You can reach out to Art House Café at art@thearthousecafe.ca and show them your portfolio – who knows, you might just make it up onto the walls for others to enjoy.
Red Door Provisions
Photo from facebook page

117 Beechwood, Ottawa
If you're looking for a great place to have lunch with your brew, Red Door Provisions is the place for you. Red Door first opened in Chelsea QC in 2012, showcasing products from a small farmer's field. At the time, the owners were selling homemade pickles, marmalades, and jams. They swiftly gained loyal vendors at markets and local grocery stores. Their preserves were worth the trip, and Red Door was able to expand into Ottawa. Soon after, the coffee shop opened in a New Edinburgh nook.
Once in the coffee market, Red Door began to brand their "thoughtful" coffee program, featuring Canadian roasters such as De Mello Palheta Coffee Roasters, Transcend, Little Victories, Phil & Sebastian's, etc. The beans regularly rotate so that Red Door visitors have a fresh experience every time.
Perhaps the most enchanting thing about Red Door Provisions is the owners' commitment to using locally sourced ingredients for all baked goods in the shop. Their lovingly crafted menu rotates often, offering you the perfect treat to accompany that cup of coffee you've been thinking about all day. Don't know where to start? We suggest the Salted Chocolate cookie.
Quitters Coffee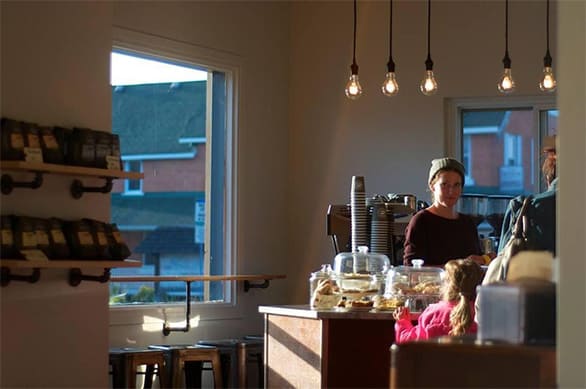 Photo from https://dothedaniel.com/food-wine-quitters-coffee-stole-my-heart-i-know-why/#!prettyPhoto
1523 Stittsville Main St, Stittsville
Here's another café that requires a hike but is worth every kilometer. Tucked in a Main Street corner in Stittsville, just 30 minutes from Ottawa's downtown core, sits a coffee shop that is proud of what it does and does well by it.
Singer-songwriter Kathleen Edwards is the owner of this minimalist haven. She admits the café's name was intentional – a bit of tongue in cheek – because she's recently put her music career on hold to focus on her business.
Edwards is no quitter though. Any visitor at this café can see that Edwards has poured herself into the design, the menu, and the drinks. The wooden ceilings, sleek community table, and floor-to-ceiling storefront windows make for a bright, inviting space.
If clutching a latte and sipping on a hot bowl of carrot ginger soup is just what you need this new year, then Quitters Coffee is the perfect place for you.
Equator Coffee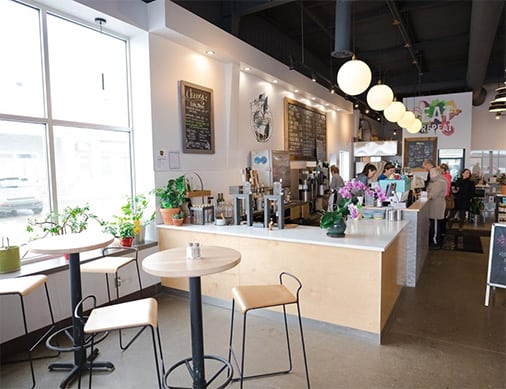 Photo from website
Multiple Locations: 1 Elgin St, 412 Churchill Ave N, 451 Ottawa St
Equator coffee's shtick is to make the most ethically sourced cup of coffee in the city – and they're pretty damn close.
When Craig and Amber Hall set out to open a truly fair trade business, they were looking to do what it takes. From environmental to economic impact, they have been diligent to ensure that their beans are grown in an eco-friendly way, and that everyone along the chain has been fairly compensated for it.
The Halls have been massively successful in the region, opening three dedicated locations in the valley in addition to sharing their product with like-minded vendors.
Perhaps Equator's most notable location is found at the National Arts Center of Canada. The café anchors the corner of the lobby's newly decorated space, and wide windows enclose its seating area. Looking for a little more privacy? Head upstairs to the NAC lounge. The ceilings reach to the sky, and little tables are scattered around the sun-lit room, giving you a panoramic view of downtown Ottawa's skyline. You're welcome to bring your latte upstairs with you – in fact, it's encouraged. Equator wants your coffee experience to be the best available. Arguably, it is.
Written by Keltie Gardiner